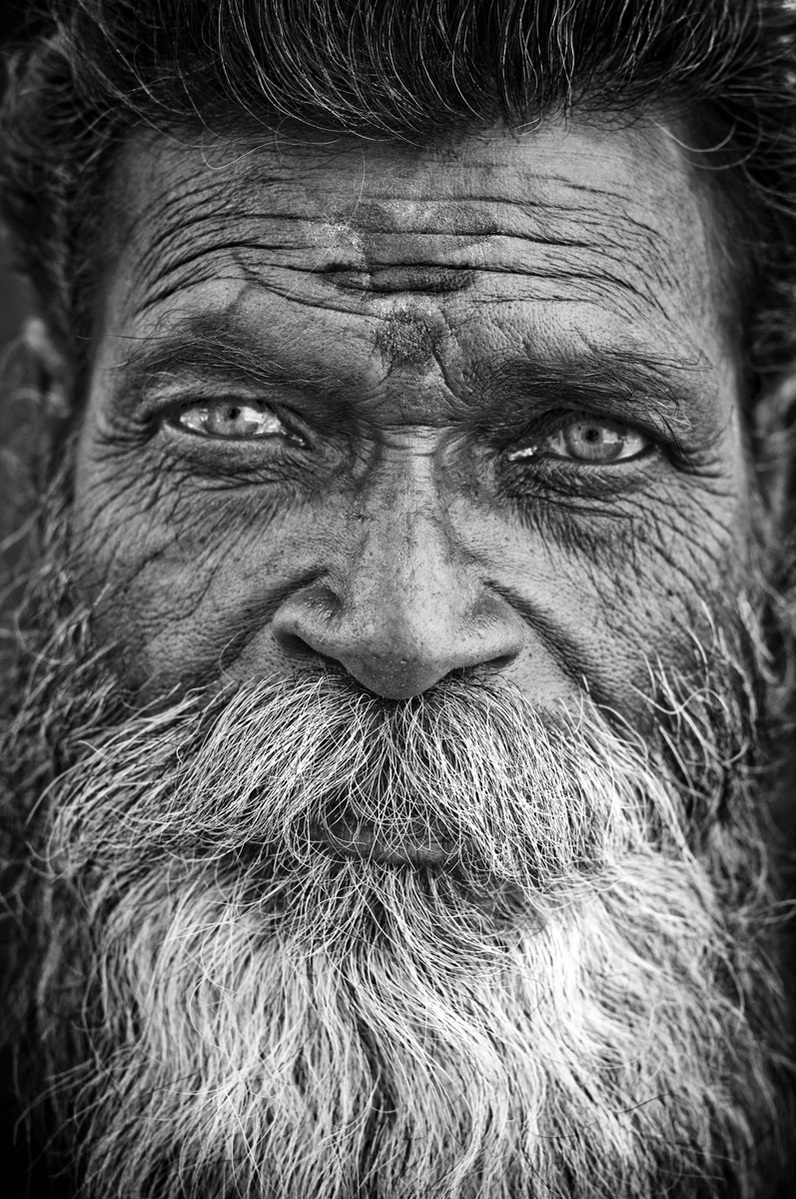 SADHUS

Nowadays, as the sanity of the Western system is being questioned, spirituality holds a greater place than ever in our society. And within the various perspectives, many find Indian wisdom particularly attractive. Philosophical Hindu texts such as the Baghavad Gita, contemporary thinkers such as Krishnamurti or Swami Prajnanpad, are readily displayed in commercial bookshops. And those who set off to discover the sub-continent often find their views somewhat altered upon their return.
For years, through photographic projects, I have explored the spiritual and mythological dimensions of India, always favouring the human connection over technique. This collection of portraits was born from the desire to share my encounters with these individuals who have chosen a radically different way of life, one that appears in stark opposition to the mainstream. Without idealising them, and with a deep respect for their quest for wisdom, I spent time with them, striving to capture the essence of that wisdom. Although few works have been dedicated to them to date, those that do exist almost systematically represent these men and women in a daily context or in ritual, as the oft-photographed icons of contemporary and touristic India. I chose a different path: by directing my work toward studio logic, the subject's context is placed off-camera. Stripped of its "picturesque" aspect, the singularity of each individual is brought forward, focusing the attention to their gaze. Viewers thus find themselves face to face with the subject - and, if they are so inclined, with themselves…
André Malraux predicted the return of religious sentiment. He stated that 'the task of the 21st century will be to reintroduce Gods into man'. Is it, therefore, so unreasonable to interpret this renewed interest in spirituality as a growth in awareness? Instead of choosing to conform to tradition, rather than following inherited religious dogmas, these individuals search for the divine in themselves. There are innumerable paths, and the scope of inspiration provides a mirror to the world in which we live.


A l'heure actuelle, alors que le modèle occidental est remis en cause, la question de la spiritualité a plus que jamais sa place dans notre société. Parmi les voies explorées, la pensée indienne intrigue particulièrement. Les textes philosophiques hindous tels que la Baghavad Gita, les penseurs contemporains que sont Krishnamurti ou Swami Prajnanpad, figurent en évidence sur les étals des libraires. Il y a aussi ceux qui partent découvrir le sous-continent et qui en reviennent le regard souvent changé.
Voilà des années que je m'intéresse à la dimension spirituelle et mythologique de l'Inde au travers de projets photographiques, privilégiant toujours la rencontre au dispositif technique. Cette série est née du désir de montrer ces individus qui ont fait le choix d'une voie différente, que l'on pourrait croire inverse à la marche du monde. Je les ai côtoyés sans les idéaliser et dans le respect de leur quête de sagesse, sagesse dont j'essaie de saisir l'essence. Bien que peu d'ouvrages leur soient consacrés, les sâdhus sont très photographiés et sont devenus des icônes de l'Inde contemporaine et touristique. Partant du constat de leur représentation systématique dans le contexte du quotidien ou du rituel, ce travail est orienté vers une logique de studio, afin de faire passer l'environnement immédiat du sujet dans le hors champ. Dépouiller ces portraits de leur aspect « pittoresque » met en relief la singularité de l'individu et recentre le spectateur sur leurs regards. Ce dernier est alors en face à face avec le sujet, et s'il y est disposé, avec lui-même...
En son temps, André Malraux prédisait le retour du sentiment religieux. Il affirmait que « la tâche du XXIe siècle sera de réintroduire les dieux dans l'homme ». N'est-il pas raisonnable d'interpréter ce sursaut de religiosité comme un acte conscient, l'individu cherchant le divin en lui-même plutôt qu'en se conformant aux dogmes religieux hérités des traditions ? Pour cela, les chemins semblent innombrables et l'inspiration, globale, à l'image du monde dans lequel nous vivons.